ANTENNA::SIGNALS::DOCS: PRIESTESS MIRIAM CHAMANI
XYZ PRISM produced a short documentary film for Antenna. We featured Miriam Chamani of the New Orlean Voodoo Spiritual Temple. More info at their website: https://www.antenna.works/history/
...
ANTENNA::SIGNALS IS FUNDED IN PART BY THE ANDY WARHOL FOUNDATION FOR VISUAL ARTS, THE NATIONAL ENDOWMENT FOR THE ARTS, THE ROSAMARY FOUNDATION, THE ELLA WEST FREEMAN FOUNDATION, THE LOUISIANA ENDOWMENT FOR THE HUMANITIES, A STATE AFFILIATE OF THE NATIONAL ENDOWMENT FOR THE HUMANITIES, THE ARTS COUNCIL OF NEW ORLEANS MADE POSSIBLE BY THE CITY OF NEW ORLEANS, THE LOUISIANA DIVISION OF THE ARTS, OFFICE OF CULTURAL DEVELOPMENT, DEPARTMENT OF CULTURE, RECREATION AND TOURISM, IN COOPERATION WITH THE LOUISIANA STATE ARTS COUNCIL, AND CONTRIBUTIONS FROM INDIVIDUALS LIKE YOU!
---
THE RAVINE – FEATURE FILM BEHIND-THE-SCENE EXCLUSIVE TRAILER
The Ravine exclusive promo video – The very first look at the motion picture, THE RAVINE – see the very first scenes from the film as well as the behind the scene footage of the process produced by XYZ Prism | Video Productions – bringing the novel, the Ravine from book to film with the incredible cast of Eric Dane, Teri Polo, Peter Facinelli, Leslie Uggams, Kyle Lowder, Byron Mann, Bob Proctor and more. The film is produced by Phil Goldfine, Binh Dang, Kelly Pascuzzi, and Robert Pascuzzi. The original book by Robert Pascuzzi is available on Amazon.
---
FEEL YOURSELF – DOLL MUSCLE MUSIC VIDEO
XYZ PRISM produced a music video for Doll Muscle, a synth-pop band based in New Orleans.
---
LIZZO "GOOD AS HELL" OFFICIAL MUSIC VIDEO – BTS
Happy New Years!! 2020 is upon us now. Have you made a new year's resolution yet?
It has been a very busy season for XYZ Prism at the year-end of 2019. We are finally updating our blog after months of busywork. We have several big announcements as we have been working on high-end video productions.
XYZ Prism is proud to work with the official team of pop queen sensation, Lizzo to produce a behind-the-scene of Lizzo's latest music video for her single Good As Hell that was shot at Southern University in Baton Rouge. The video will be released sometime in 2020. Check out her latest video.
---
MEET NEW ORLEANS FILM FESTIVAL 2019 FILMMAKERS
XYZ PRISM | VIDEO PRODUCTIONS produced this small filmmaker interview video for 2019 Filmmakers participating 2019 New Orleans Film Festival.
---
NEW ORLEANS FILM FESTIVAL TV SPOT
XYZ Prism produced a 15-second and a 30-second TV spot commercials for the 30th New Orleans Film Festival that takes place during October 16 through 23rd of 2019. The film festival kicks off officially tomorrow at 5:00 pm. Get your tickets now at https://neworleansfilmsociety.org/lineup/
Videographers that contributed to this video; Tavner Murphy, Asli Ozyenginer, Karina Ramirez. Voice Over by Zaferhan Yumru. The video courtesy of the New Orleans Film Society.
---
DOLL MUSCLE MUSIC VIDEO INDIEGOGO CAMPAIGN
XYZ PRISM is currently in the pre-production stage of a new music video for Doll Muscle, a New Orleans' based Dream Pop duo. We are going to be collaborating with a local 6th ward studio space, Fish Pot Studio.
Here is a spiel about DOLL MUSCLE;
We are DOLL MUSCLE, a New Orleans based synth-pop band. On Sept. 25th we will be filming our first music video for "Feel Yourself", the opening track off our new LP, LOVERS (out Oct. 4th).
...
A descriptive of our song:
"Feel Yourself's lyrical simplicity is lifted by a grand, yet tender soundscape. It forms a spell that encourages, calls you to bring forth the strength of love from within you. It calls you to step into your unique stance of power. The discovery is yours, the joy, the sweetness, the birthright – it's all yours, now. This is the time we were born into, it is our gift and our duty. For those of us who hear the call, the choice is obvious. "
-Joel Andres Collier
>Doll Muscle is comprised of composer, Bodhi Landa, and vocalist, Joel Andres Collier. We are so thrilled to be teaming up with filmmaker Zensuke Omi, of XYZ Prism. Our vision for this music video has brought us to Fish Pot Studios. We will be working with a white seamless wall that is essentially one-of-a-kind in New Orleans. Your support will be covering the cost for the studio rental.
Also collaborating with us on the shoot are local dancers/performers, Reina Terra, and Ryuta Iwashita and costume designer, Nicole Zook.
---
FEATURED ARTIST: SCARAB SHABAZZ FROM NEW ORLEANS
In the midst of chaos, we release illusion, empty what no longer serves us & are void of fear. • • Filmed & Edited by Zensuke Omi & XYZ Prism Video Productions Music Written & Performed by Scarab Shabazz Music Produced by Wino Willy • [Necklace by J. Nikole] © Foreva Records 2019 All Rights Reserved ©XYZ PRISM | Video Productions LLC.
Scarab Shabazz – Ol' Earth • • Filmed & Edited by Zensuke Omi & XYZ Prism Video Productions Music Written & Performed by Scarab Shabazz Music Produced by Wino Willy
"Anu Leaf" (Version 1) • • Filmed & Edited by Zensuke Omi & XYZ Prism Video Productions Music Written & Performed by Scarab Shabazz Music Produced by Red Beats N Rice
---
XYZ PRISM + PROPELLER INCUBATOR + THE GODBARBER
XYZ Prism | Video Productions is proud to announce a joint video project with Propeller Incubator, a New Orleans' based non-profit that provides co-working space and various supports for a community of entrepreneurs, freelancers, and professionals. Our joint video venture features the community economic development program at Propeller. The program tackles the income and social disparities in New Orleans, creating more equal and just environment free of poverty, the systems of racism, sexism, and other various forms of oppression. They believe that entrepreneurship is a key to solve the issues surrounding these disparities. According to the data from The Data Center, a most reliable source for data about Southeast Louisiana;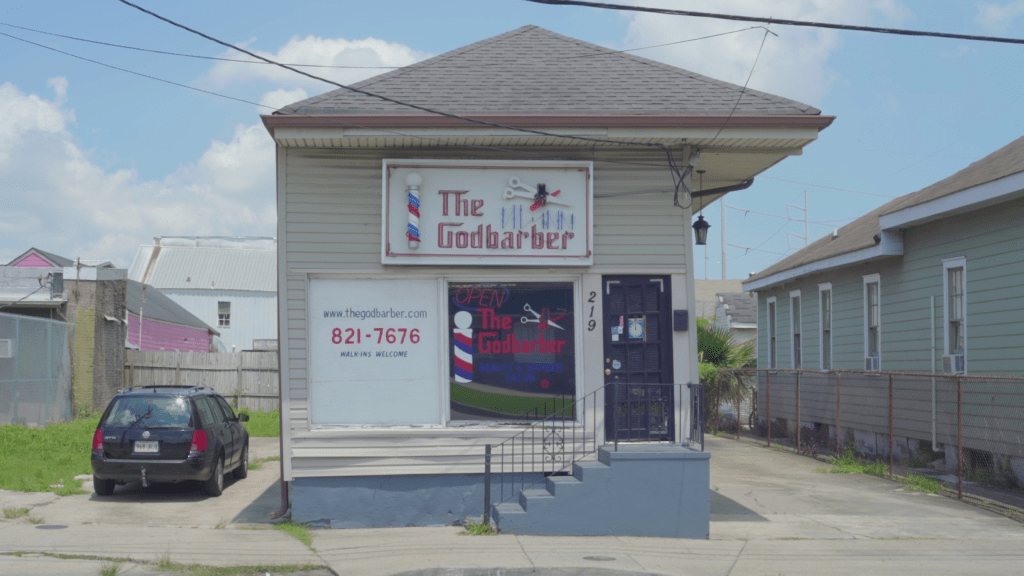 The Godbarber on Broad Street
Godbarber is a black-owned barber shop on Broad Street of New Orleans. The owner, Ardel Tony who grew up in Desire Housing Project in New Orleans has been formerly incarcerated at the age of 14. He acquired his hair-cutting skills in prison. Soon after his released, he started his hair cutting business after he worked in several barber shops in town. He is a great example of an entrepreneur who has been facing the systems of social and income disparities.
The Godbarber in action.
Arderl applied for the South Broad Business Initiative, currently, the program is expanded and called the Community Economic Development Program instead, now it covers all of New Orleans area. He was one of the first people to graduate from this program at Propeller. The program supported him with his business website creation, social media outreach, handlings of paperwork, and other various financial supports to boost his business.
Propeller is accepting candidates for their accelerator program in spring and fall. Current program deadline was closed last week, however, the program will start again in spring of 2020 for more candidates like Ardel who is looking for more entrepreneur business support in New Orleans. Check out Propeller's website for more information about their Impact Accelerator program.
---
BENNY AMON'S NEW ORLEANS PEARLS
XYZ PRISM collaborated with New Orlean's based jazz drummer, Benny Amon. We produced two music video live recordings for When the Moon Comes Over the Mountain and Back In Your Own Backyard.
---
SWITCH MAGAZINE / SKY PERFECT TV SPOTS for DREAMS COME TRUE 30th Anniversary
XYZ PRISM helped to co-produced the cultural magazine based in Japan with Dreams Come True, a sensational Japanese soul duo.
We are so honored to work with a legendary Japanese photographer, Mikio Hasui.
---
We serve across Baton Rouge, Gulfport, Picayune, Jeffersons Parish, Orleans Parish, New Orleans, and the surrounding areas.
Top